Optima Basic PDUs
These days, a "basic" PDU has simply come to mean a PDU which is not networked. However, that doesn't mean the PDU has to be simple. Marway's Optima PDUs offer more industrial capability than most commodity PDUs. Entry-level models provide solutions for budget-concious needs, but most models include options suited to more industrial-like environments.
The Optima 5 series products are a pre-designed range of PDUs for single-phase and three-phase applications in various enclosure forms. We've selected several of the most commonly requested features from a long history of creating custom products (such as EMI filtering, remote EPO, and metering) and packaged them into standardized product lines.
Protects Equipment
EMI filter standard on 2U, 3U; optional on 1U models.
Remote on/off/EPO standard on 2U, 3U; optional on 1U.
Surge suppression on all models.
Circuit breaker(s), inlet power indicator(s) on all models.
Multiple Configurations
18ga steel enclosure in 1U, 2U, 3U, and vertical 0U sizes.
Outlets include 5-15, 5/L5-20, 6/6L-20, C13, C19.
Inlets for 120/208 3Φ, 100–240 1Φ, or 120 1Φ Vac.
Inlet at front or rear for 2U and 3U models.
Relocatable brackets for flush or recessed mounting.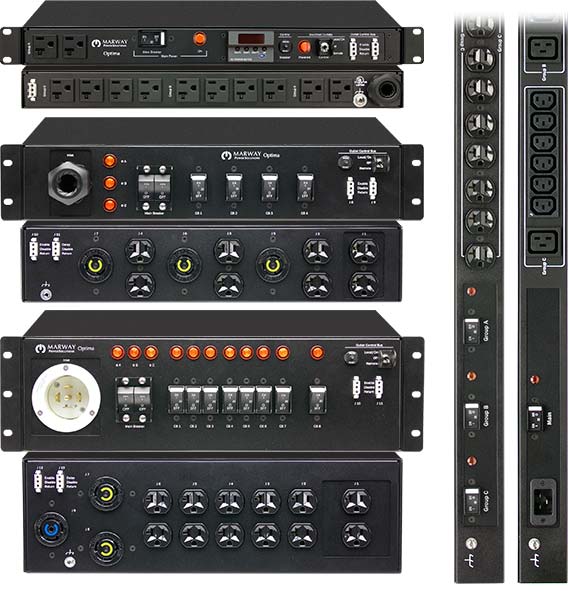 ---
520 Series

1U Single Phase
The 520 Series 1U single-phase PDUs consolidate the most commonly requested 1U features and options into an array of almost 100 standard models.
120 Vac, 200–240 Vac, or 100–240 Vac 1Φ.
12 A, 16 A, and 24 A continuous duty ratings (15 A, 20 A, 30 A max).
5-15R, 5-20R, or high-tension C13 outlets (2 on front, 10 on back).
Standard main power circuit breaker, indicator, and surge suppression.
Options include current and voltage meter, remote switching and EPO interface, sequencing of two groups of four outlets, and an EMI filter.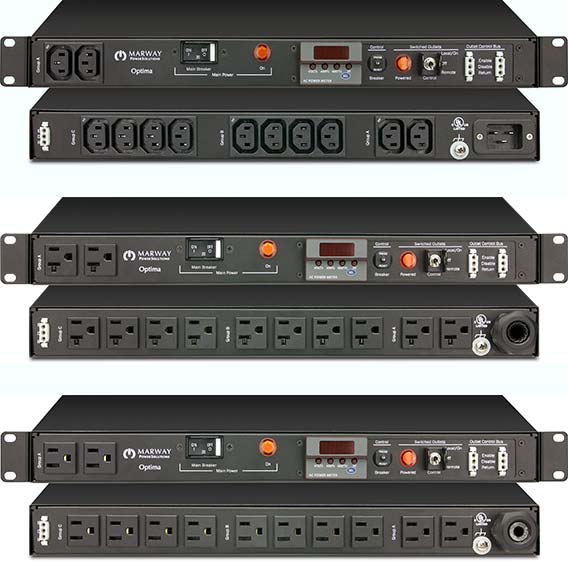 ---
532/533 Series

2U/3U Three Phase
For higher power requirements, we have the 532 Series 2U and 533 Series 3U three-phase PDUs which provide the space needed for twist-lock connectors and individually breakered circuits.
All models are 120/208 Vac 3Φ wye, 24/30 A, with an L21-30 inlet.
Standard main power circuit breaker, phase power indicator, surge suppression, EMI filtering, and remote EPO control.
Options for location of the inlet on the front or rear panel and a variety of outlets (5-20, 6-20, L5-20, L5-30, L6-20, L6-30, L21-30).
---
529/539 Series

0U Vertical PDU
When rack space is at a premium, the vertical 0U 529 Series single-phase and 539 Series three-phase PDUs are installed at the back of the cabinet without using any of the traditional rack-mount spaces.
Single-phase in 120 Vac, 200–240 Vac, or 110–240 Vac.
Three-phase in 120/208 Vac wye.
12 A, 16 A, and 24 A continuous duty ratings (15 A, 20 A, 30 A max).
Full-rack and short-rack models.
Outlet types including C13/C19 combinations, 5-20R, and 5-15R.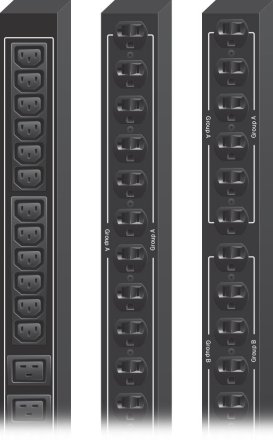 ---
---