What We Do
Marway designs and manufactures power distribution products for electronic equipment in either standard rack-mount form, or in custom enclosures.
We specialize in creating optimized solutions for unique applications. Whether for one-time, custom, multi-rack platforms, or for high-volume OEM power boxes, we're able to meet the needs of a variety of engineering and manufacturing needs.
We also design and manufacture auto transfer switches to handle dual power sources, and custom control and EPO panels to help manage multiple or remotely located PDUs.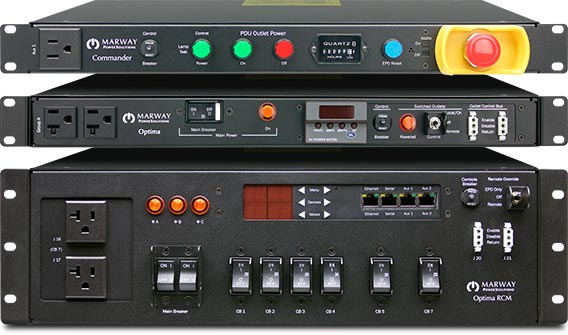 ---
Who We do It For
Over the years, much of Marway's focus has been on meeting the demanding needs of industrial, military, and OEM applications. We've delivered thousands of custom designs for test applications used in development, DVT, and maintenance environments. In the defense realm, we have hundreds of products deployed in ships, submarines, aviation, and mobile command centers.
We have also delivered a great number of PDUs for commercial and OEM markets serving data processing, factory infrastructure, and capital equipment in several industries.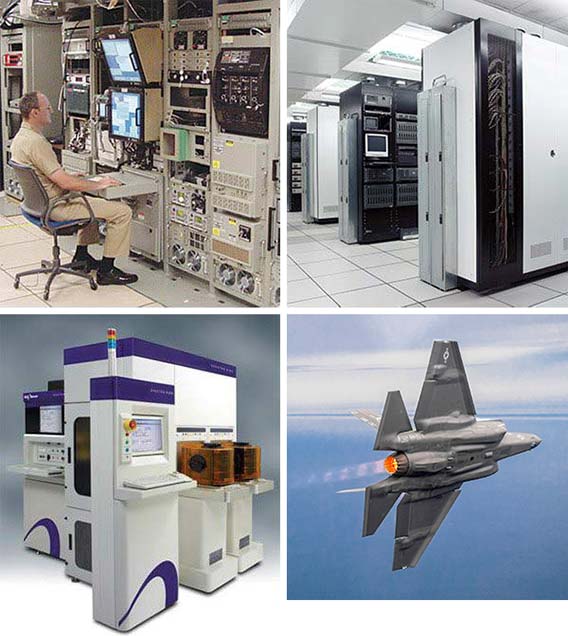 ---
How We Do It
With Marway's ability to create PDUs for unique applications, the PDU becomes an ideal place to consolidate many power management needs. This includes conditioning incoming power to minimize noise, converting available power to other forms, adding controls for safety and operator convenience, and integrating monitoring to display power conditions and status.
We call these capabilities the pillars of power management. Marway has specialized in the integration of these capabilities to reduce space, weight, and costs, and to improve performance compared to separate third-party components.
---
---
The Surprise Find of Your Project
Marway's culture is driven by the desire to provide "big company" quality with "small company" agility and service. We start by focusing on what we can do to help you succeed at what you're doing. That requires we understand not only the immediate technical needs, but also the environment and purpose our product will serve. Regardless of the size or complexity of a project, we expect your team to experience a responsive, attentive, and creative effort on our part. Ideally, when your project is complete, we want Marway to have been that "surprise find" which helped the project succeed, and made it that little bit better than expected.
---
Engineering
Marway's products are designed in house by a staff experienced in electrical, mechanical, and software engineering. Many have decades of experience in power engineering, process control, and other complex systems developed for military branches and Fortune 500 companies. The company also maintains alliances with professional services which can be utilized for unique requirements.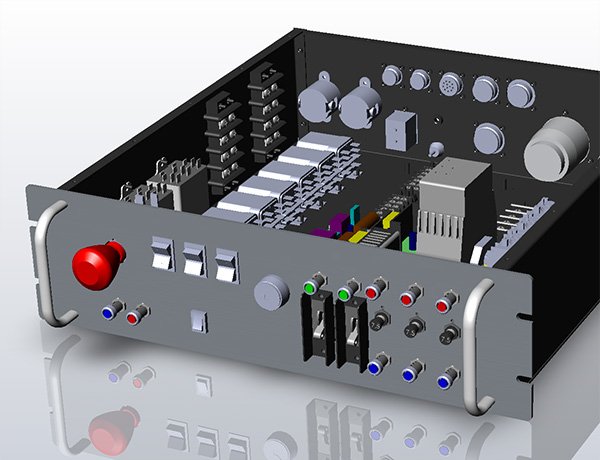 ---
Manufacturing
The majority of manufacturing is on site including most sheet metal and wire harnesses, final assembly, and all functional testing. Local labs are available for specialized needs such as safety certification, reliability evaluation, environmental testing, etc. Our team has developed processes optimized for low production and volume production, so we're able to meet the unique requirements of individual custom units and runs of hundreds of units.
---
Quality Management
Marway utilizes time-proven project management guidelines gained from experience and continuous exploration of new ideas. Our practices are embodied in our AS9100/ISO 9001 documentation and an Enterprise Resource Planning (ERP) system.
An emphasis on total quality begins with executive management and permeates throughout the company. This has resulted in quality awards from our customers.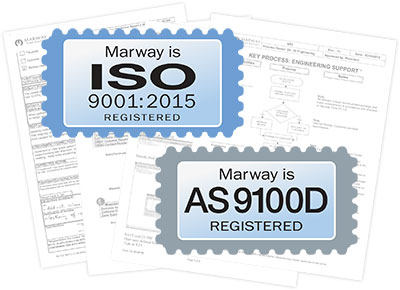 ---