Optima 532 2U Industrial PDUs
With a three-phase power source, the Optima 532 provides greater power density than the 520 series in a package smaller than the 533 series. A 2U enclosure provides the space needed to include four power branches each with its own circuit breaker. This allows more flexibility in planning the grouping of downstream equipment. The 2U chassis also provides the room for industrial twist-lock power cord connectors. Surge suppression, EMI filtering, and remote EPO control are all standard, making these units ready for many industrial applications.
Download the Standard Products Catalog (above) for complete details, but here's an overview of standard and optional features:
2U chassis with removable/relocatable mounting brackets.
120/208 Vac 3Φ wye, 50/60 Hz, 24/30 A, L21-30P inlet.
Inlet available on rear panel or front panel (swaps position with one 5-20R duplex). Front inlet can be straight or right-angled strain relief connector (with the cable passing through an access hole in the recessed mounting bracket).
Standard main power four-pole circuit breaker with a power-on indicator for each phase.
Standard surge suppression.
Standard remote switching / remote EPO interface.
Standard EMI filter.
Standard 16/20 A utility circuit with one 5-20R duplex (not subject to the EPO system).
Three 16/20 A circuits:

having either one 5-20R duplex or 6-20R duplex, and
one twist-lock outlet.
Subject to the remote EPO system.
All three circuits have the same twist-lock type with a choice of L5-20R, L5-30R, L6-20R, L6-30R, or L21-30R connectors. The 20 A connectors are subject to the branch breakers, but the 30 A connectors are subject only to the main breaker.

Certified to UL 62368-1.
---
Remote EPO
The Optima remote switching/EPO feature is primarily designed for use with Marway's Commander panels. A Commander panel may be connected to one or more PDUs, and thereby provide remote on/off and EPO functionality for several racks in unison. In the 532 Series products, the remote EPO feature enables remote control of all the outlets except for the duplex labeled J1.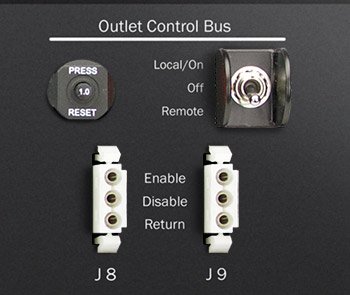 ---
Main Breaker
All models feature a four-pole UL recognized main circuit breaker, a thermally protected varistor on each phase for surge suppression, and an integral three-phase EMI filter. Each phase also has its own power on indicator. All models are fitted with a 9-foot cable and L21-30 twist-lock plug.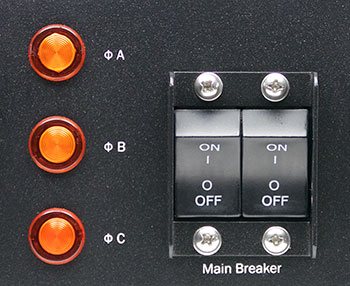 ---
Circuits and Outlets
There are four independent circuits. Three circuits are a combination of a 5-15R or 5-20R duplex and one twist-lock connector. All three of these circuits have the same twist-lock type with a choice of L5-20R, L5-30R, L6-20R, L6-30R, or L21-30R connectors. The fourth circuit is dedicated to the utility outlets of J1 which may be on the front or back (opposite of the inlet connector).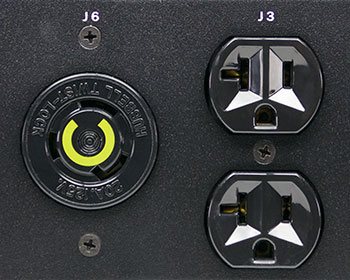 ---
---