Optima
™

Power Distribution Units
Custom PDUs for AC, DC, 400 Hz, up to 400 amps
Standard smart PDUs 1-phase, 3-phase, 0U, 1U, 3U
Standard basic PDUs 1-phase, 3-phase, 0U, 1U, 2U, 3U
3rd-party out-of-production replacement PDUs
Integrate power conversion, power conditioning, outlet control, and system monitoring all in one optimized package
Marway's Optima PDUs specialize in application-specific designs optimized to meet specific requirements. We've developed and manufactured hundreds of systems for a variety of platforms and applications. We've also extracted the most common requirements into a series of pre-designed, general-purpose PDUs. These standardized units are available in basic and Ethernet-networked platforms at lower cost and shorter delivery times.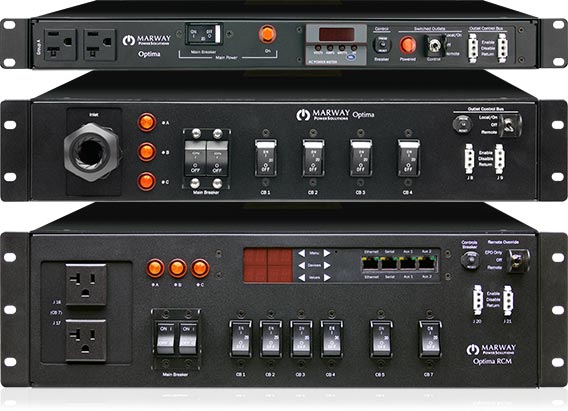 ---
mPower
™

DC Power Supplies
Power supplies of 1, 1.5, 3, 5, 10, 15, and 30 kW
DC outputs from 80 up to 2000 Vdc, up to 1000 A
Autoranging output provides full rated power for a wider range of voltage and current
Function generator for custom profiles of voltage and current
Programmable using ModBus and SCPI on USB, R232, Ethernet, CANopen, Profinet, and more
Parallel operation to increase total power capacity up to 10x, 16x, or 64x units depending on the model
Marway's new mPower DC rackmount power supplies include many advanced capabilities usually found only in systems costing much more. The 310 Series features touchscreen user control, a true master-slave bus, and a function generator. The 300 Series is a cost effective package with a graphical display. In addition to operational flexibility, all systems include safety features such as user interface lockout, several monitored alarms, and discharge circuitry (for units over 200 Vdc).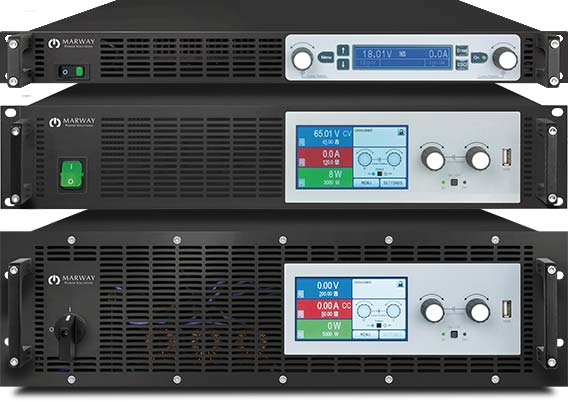 ---
TwinPower
™

Auto Transfer Switches
Multiple pre-designed models in 120 and 208 Vac, 30amps, with a variety of connectors
Custom configurations to meet power and connector needs
An auto transfer switch is supplied by two separate power sources: a primary and a secondary. If the primary power source loses power, the TwinPower ATS automatically detects the power loss, and switches to the secondary source to keep the connected equipment powered up.
The secondary source might be from a separate circuit breaker of the same facility power, or a completely seperate facility power system. An Auto Transfer Switch has a different purpose than using a battery backup system, and a battery system could still be used along with the ATS device.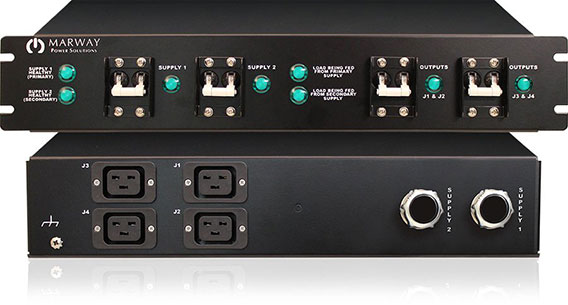 ---
Commander
™

Control Panels
On, Off, EPO, audible alarm, isolated auxiliary connectors
Available in NEMA 5-15 and IEC C13 configurations
Simplified on/off/EPO switch-only version
Marway's universal control panels consolidate the on, off, and EPO control features used to manage one or more power distribution units. PDUs with remotely switchable outlets can then provide power on/off control in unison to downstream equipment. Additionally, the EPO circuit of the Commander control panels improves safety of the combined power system.
---
PowerPlus
™

Integrated Racks

PowerPlus systems integrate the engineering, design, and packaging of customized, turn-key, rack-based control centers where the optimization of power distribution is an integral part of the design objective.

Where critical equipment comes together in a rack system, power distribution usually plays an important role. Some equipment sets will need very specific power conditioning requirements. Some will have a multiude of different ac and dc power forms. And, for some racks, space constraints will dominate the need for creative solutions. Marway can address these design needs and more.

Whether for communications, test automation, field diagnostics, or other roles, Marway can design and manufacture the power platform needed for the application-specific equipment.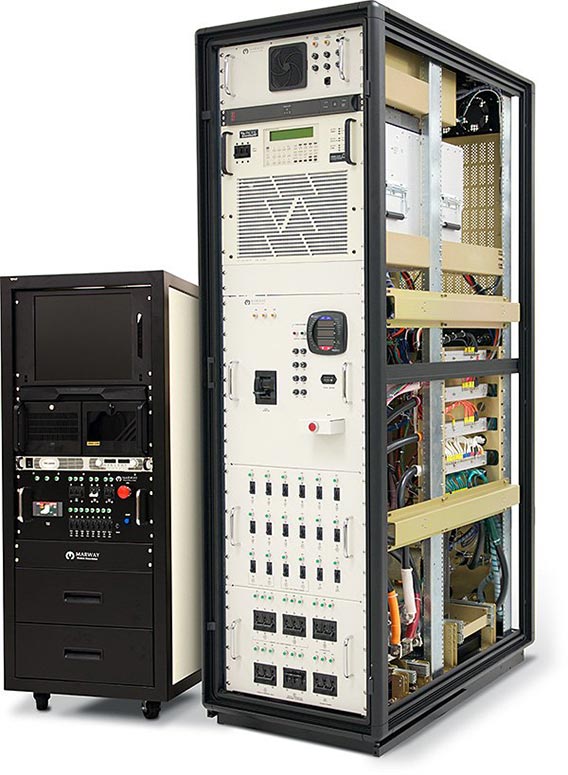 ---
Industrial, Military, and OEM
Marway's experience spans thousands of custom PDU solutions for industrial, military, aerospace, and OEM applications. Our products have solved power challenges in numerous speciality manufacturing environments, as OEM subsystems in automated test, semiconductor manufacturing, industrial laser equipment, .
Marway also has a strong heritage in defense programs with products onboard submarines, ships, and aircraft, as well as deployed in mobile and forward base installations.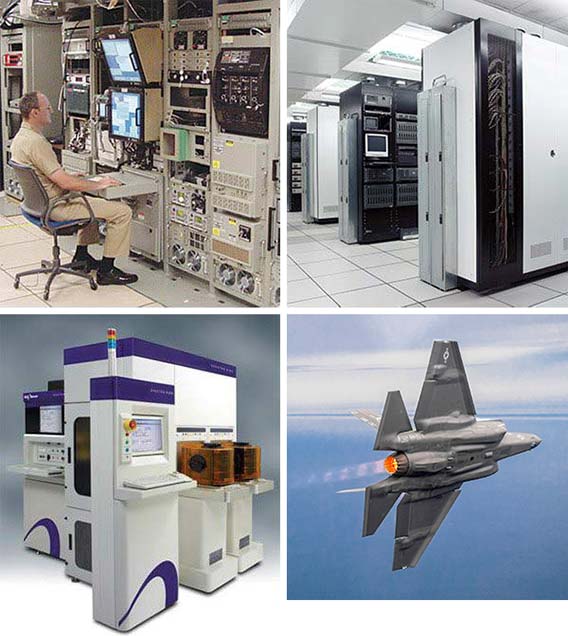 ---
That Special One, or
Those Special Hundreds
Marway's design and manufacturing processes have served customers needing a single, highly-customized system, to customers needing repeatable orders of hundreds of units per shipment. Whether you need that one specialized feature or chassis design that no one else offers, or whether you need a fully-collaborative design project to optimize a complex system, Marway can help. Likewise, when it comes to meeting production demand, Marway can create that one unit no one else will, or deliver hundreds of units to meet your production planning needs.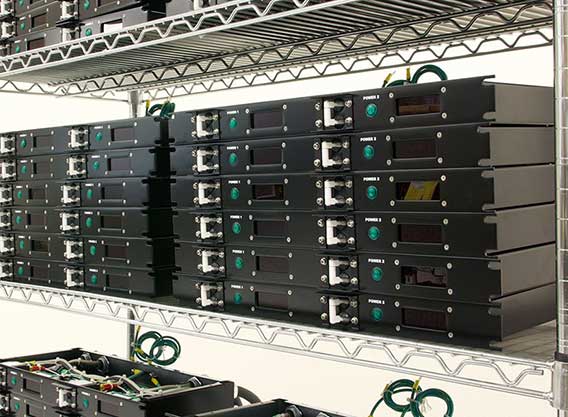 ---