Custom is our middle name.
And has been since day one.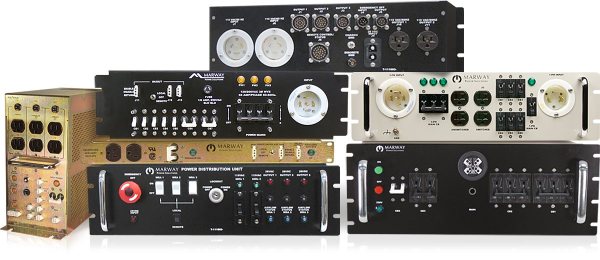 The Custom Advantage
If the limited options in catalog products have you thinking about a custom or in-house design for power distribution, consider the advantages of having Marway develop and manufacture a custom solution for your project.
Marway's core business is application-specific PDUs designed to meet distinct requirements while being optimized to conserve space, weight, and cost.
We offer cost-competitive collaborative design, and turn-key manufacturing in parallel to your in-house team.
Often, we provide shorter turn-around times because we've already done the component research, and have many of them in stock.
Our power engineering expertise assures properly matched components for efficiency, signal quality, and reliability.
Our experience with safety- and compliance-qualified designs and components helps to avoid late-stage redesigns with in-house projects.
Experience with PDU configuration management to simplify end-product development, compliance testing, purchasing, manufacturing, and sales.
---
Understand the Needs
A new PDU design from Marway begins with a discussion to help us understand the purpose of the PDU, and the environment in which it will function. To help identify the key technology needs, we've organized common power management capabilities into the groups of conversion, conditioning, control, and monitoring. In each of these areas, we help identify core requirements along with any constraints. Next, we consider the physical environment needs from tolerance of vibration and temperature to details of installation and operator ergonomics. When compliance is needed, Marway can offer its experience, and manage the process of testing and certification.
A collaborative approach enables Marway to understand the application, environment, and purpose of the PDU. We'll be able to better interpret your project's needs, and offer our experience towards a more successful design.
---
Consider All Options
Having identified key technology requirements and constraints, the design process will move into component preferences. You may prefer specific components based on experience, existing support stock, or other reasons. Likewise, Marway may suggest specific components based on its experience with specific applications. Next, we consider the operator panel for logical layout. Front, back, left right—placement may matter based on near by equipment, and design uniformity with other equipment may also be desired.
Between technologies, components, panel layouts, and more, there are a lot of options to consider. For many cases, Marway handles defining all these options. With others, there's a lot of hands-on process with the customer. Either way, considering these options helps us to better balance performance, cost, space, and other design factors which create a successful design.
---
Optimize the Packaging
When creating an integrated solution, we address the unique needs of that application. We optimize the selection of components for performance, capacity, space, accessibility, and other design parameters. This optimization extends even to the enclosure. By having in-house chassis fabrication, we're not boxed in by standardized sizes and panels. Even "standard" rackmount enclosures don't have to be identical. For many OEM/VAR applications, enclosures will be in rather unique shapes and sizes. Regardless of form factor, we create enclosures so they complement all other design decisions to result in better panel layouts, labeling, operator conveniences, installation advantages, and more.
---
Customization Capabilities
Marway's PDU customization options include filters, transformers, power supplies, outlet connectors, switches, circuit breakers, indicators, metering, software and more. The sections below offer some discussion of the general areas of customization. For more details about the purpose of various components, visit our Technology section.
---
Conversion
Many installations of electronic equipment require more than one type of power source. There can be advantages to consolidating multiple power sources and adding power conversion into a single PDU. Using transformers (ac), power supplies (ac to dc), converters (dc to dc), and inverters (dc to ac) we can optimize space, weight, cost, and even simplify the installation and operation.
---
Conditioning
Facilities have imperfections in their power signals which can cause poor performance, incorrect functionality, or even damage. Most equipment has limited built-in protection against this. There's a basic assumption that incoming power is clean. Marway can consolidate power conditioning into the PDU using EMI filters, transformers, varistors, and other features to assure a clean and stable power signal.
---
Control
Safety considerations of power control include over-current protection and easy access to power shutdown for emergency conditions. Safety aside, most controls are added to PDUs for operator convenience. Circuits and outlets can have on/off control through local breakers, switches, or relays, through remote panel switches, or even through software over an Ethernet network.
---
Monitoring
Power monitoring with digital displays and status indicators provides confidence that downstream equipment is getting what it needs. This might include tracking power quality, available capacity, and simple on/off status of circuits or outlets. Whether for local visibility or remote connectivity to factory automation, Marway can consolidate power monitoring needs into the PDU to optimize power management space and cost.
---
Outlets
An outlet is an outlet. Yes? Well, not really. Ac, dc, high voltage, low voltage, commercial, industrial, military, aerospace all have unique requirements. There are numerous standard outlet forms from common appliance outlets we see in homes and offices to larger capacity forms with twist locking safety features to specialized pin and sleeve connectors suitable for high vibration environments. It's even common to have simple lug nuts or screw terminals. Chances are if it's ever been used to send a power signal, Marway has used it.
---
Enclosures
Other than width and height increments, there's little that is "standard" about a rackmount enclosure. You've seen photos of several rackmount PDUs on this web site—and seen that they can differ quite a lot. Even with all that customization, a rackmount enclosure is not always the best solution. We create most of our own enclosures, so we're able to create custom shapes and sizes from the rather small to the rather large.
---
Add Marway's RCM Software
The Optima RCM (remote control and monitoring) software adds remote outlet switching and inlet power monitoring over Ethernet® via HTTP/S, SNMP, Telnet, and SSH. Below are some highlights of the RCM software capabilities:
Remote control of outlets (manual and scripted)
Inlet current and voltage monitoring
Event alerts for startup, user login, outlet state change, EPO, power setpoint excursion, and configuration changes (via SNMP, email, SMS)
HTTP and HTTPS for web browser access
Telnet and SSH for command line access
SNMP monitoring, control, and alerts
RESTful API over HTTP/S to script outlet automation
Multiple users with independent login credentials
On-board activity log (SNTP time stamps)
---
Optima Semi-Standard Products
Since Marway has been manufacturing power distribution products for over 35 years, we have quite a library of already-designed PDUs. Many of these products are not exclusive to their original customers. The most modern and general purpose of these designs are available as what we call semi-standard products.
Semi-standard simply means that these previously engineered systems are not stocked, but rather are built to order. Most systems can ship in less than 12 weeks. As with all Marway PDUs, these products are managed under full revision control, and are manufactured to Marway's high quality standards. You get the same engineering and manufacturing quality as a new custom design, but you take advantage of an existing design.
When there's room for flexibility in the PDU's exact requirements, finding a pre-engineered system from our Product Selector can reduce the overall time and cost of the project compared to a new custom unit—with features you just can't get in off-the-shelf products. If you don't find something in our Selector, contact the factory, and we can search our entire back catalog as not everything is listed online. (Products shown are intended to indicate variety, and not actual available models.)
---