Custom PDU Advantages
A custom power distribution unit consolidates power management needs such as electrical noise filtering, power monitoring, outlet control, safety interlocks, and more into a single-enclosure solution tailored to the application.
Accounting for the wider environment, the best custom PDUs take into consideration the physical environment, electrical environment, and operator environment. Marway specializes in working closely with customers to configure a custom PDU into a cohesive application-specific solution.
Overcome limitations of standard products
Meet your application's exact needs.
Achieve perfect control with custom branches, switching, metering, and more.
Simplify installation by using the exact connectors needed.
Integrate safety systems with EPO and other interlocks.
Get the exact size and shape enclosure needed.
Protect equipment against noisy power
Meet EMI standards using filters and shielded enclosures.
Mitigate voltage spikes/transients using surge suppression.
Save space with power source consolidation
Consolidate ac and dc sources into one distribution system.
Create step up or down voltages with internal conversions.
Create dc from ac, or ac from dc within a single unit.
Take advantage of a team of experts
Reduce overall design time by using the expertise of a specialized design and manufacturing team.
Be assured components are properly matched for efficiency, signal quality, and reliability.
Let Marway manage compliance testing and certification to meet regulatory needs.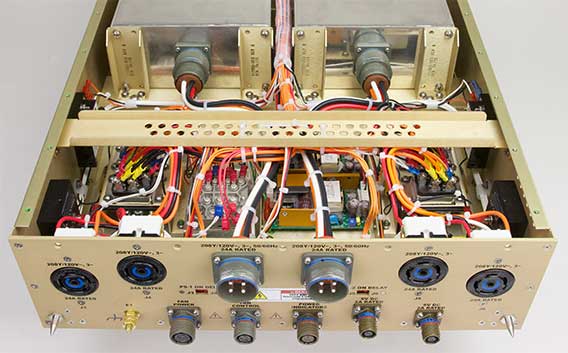 ---
Protect Against Noisy Power
Since many signal problems are introduced to power lines through a facility's own wiring, adding power conditioning at points throughout the facility is beneficial. An effective place to do this is in a PDU right before the application equipment. A custom custom power distribution unit can incorporate application-specific solutions.
Protect equipment from spikes with correctly-sized surge suppressors.
Mitigate inducted and conducted EMI with application-matched filters and isolation transformers.
Minimize radiated EMI with shielding and other techniques.
Address application-specific needs by optimizing the selection of components for capacity matching, packaging efficiency, and cost.
---
Connect However You Need To
Not everything has a NEMA 5-15 plug. We get that. Because we do our own custom enclosures, we can accomodate the mounting of any connector needed.
NEMA, IEC, straight blade and twist locks.
Pin and sleeve, circular/MIL, marine connectors.
Multi-pin signal connectors.
High-current lugs and even screw terminals.
---
Control Whatever You Need To
A single breaker and a couple of indicators isn't always enough. Your application is unique, and it needs unique management of circuits and controls.
Multiple individually breakered circuits.
Power consumption and power quality meters.
Manually switched, and remotely switched outlets.
Integrated EPO, remote interlocks.
Ethernet switching and power monitoring.

---
Save Space by Consolidating Boxes
Marway has specialized in the single-chassis integration of power management capabilities to reduce space, weight, and costs by eliminating redundancies. It can even save on installation time.
We manufacture most of our enclosures, so we get to make room for almost anything needed by the application.
Power supplies, step transformers, isolation transformers, EMI filters, and more can all be housed in a single enclosure.
Another perspective on reduced boxes—we've helped OEMs consolidate features of multiple PDUs to improve configuration management and reduce inventory.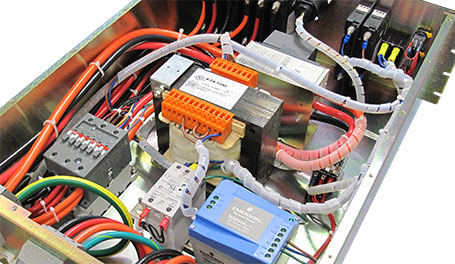 ---
All Shapes and Sizes
Marway has created custom power distribution units in small unique-shaped enclosures, standard rackmount enclosures, and entire racks filled with power management and distribution hardware.
Traditional horizontal rackmount size of 1U and larger.
Vertical 0U enclosures for back-of-rack installations.
Non-rack enclosures from small OEM power modules to large cabinets mounted into custom framing systems.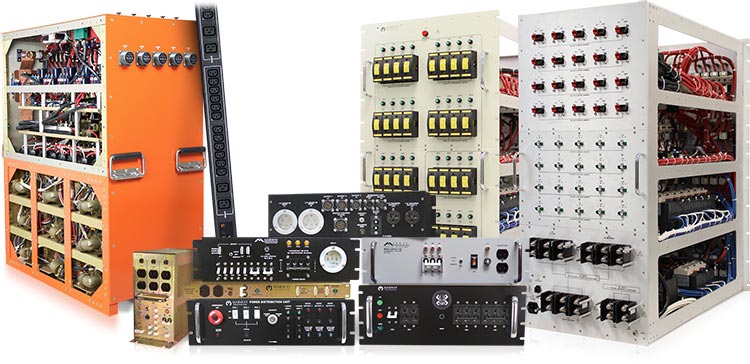 ---
Networked and Non-Networked
Connectivity is becoming an increasingly more common requirement even in traditionally non-connected environments. Marway offers Ethernet-based switching and power monitoring in addition to traditional control methods in both it's standard products and custom PDU products.
Non-networked PDUs are still the backbone of power distribution when only local control is needed.
Non-networked PDUs can still incorporate nearby remote control for outlet switching, EPO, interlocks, and other discrete signal needs.
Marway's RCM technology provides inlet power monitoring, outlet switching over HTTP/S, SSH, Telnet, RESTful API, and SNMP.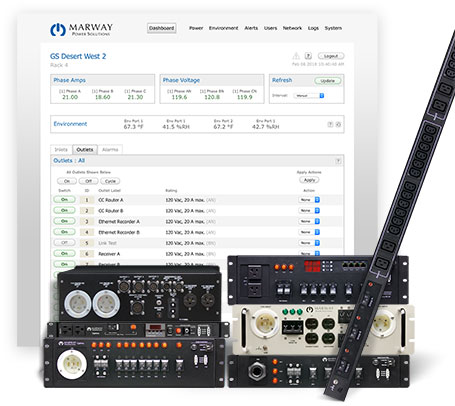 ---
That Special One, or
Those Special Hundreds
Marway's design and manufacturing processes have served customers needing a single, highly-customized system, to customers needing repeatable orders of hundreds of units per shipment. Whether you need that one specialized feature or chassis design that no one else offers, or whether you need a fully-collaborative design project to optimize a complex system, Marway can help. Likewise, when it comes to meeting production demand, Marway can create that one unit no one else will, or deliver hundreds of units to meet your production planning needs.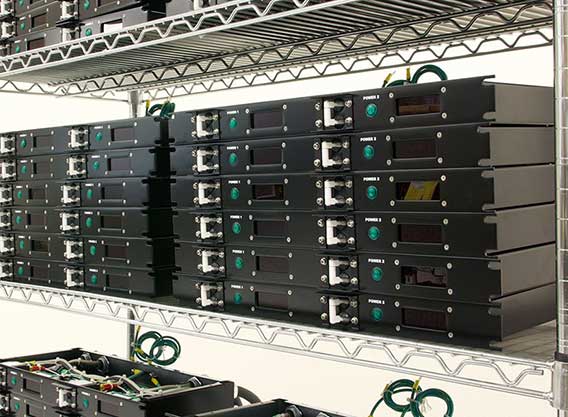 ---