Optima RCM Smart PDUs
The Optima RCM 8 series of products are a standardized line of smart PDUs for single-phase and three-phase applications in 0U, 1U, and 3U sizes. We've expanded on the traditional notions of switched PDUs and metered PDUs by adding several industrial power management features commonly requested in our custom products. Then we added the most frequently requested network capabilities to deliver power monitoring and remote outlet switching over a variety of protocols.
Ethernet accessible control and monitoring
Switched PDUs provide remote control of outlets.
Inlet metered PDUs add monitoring of inlet current, voltage, and power.
HTTP and HTTPS for web browser access.
Telnet and SSH for command line access.
SNMP monitoring, control, and alerts.
Scriptable using Telnet, SSH, SNMP, and RESTful API.
Ethernet 10/100-T, RS-232 serial console.
Industrial pedigree
Industrial chassis in 1U, 3U, and vertical 0U sizes.
15-, 20-, and 30-amp capacities.
120 Vac, 100–240 Vac, and 120/208 Vac 3-phase inlets.
Surge suppression, EMI filter, and remote EPO control available in most models.
Gets your attention
Logs events for startup, user login, outlet state change, EPO, current and voltage setpoints, and configuration changes.
Sends alerts to SNMP (v1/v2/v3), and up to 20 users via Email and/or SMS (alert/user combination is configurable).
User alerts are resent if not acknowledged.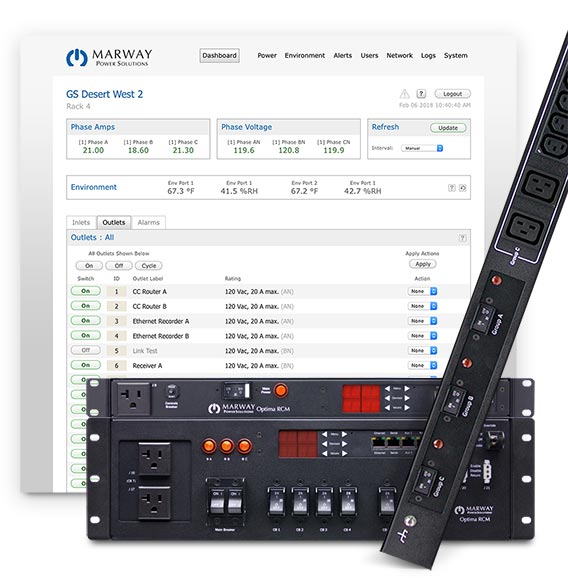 ---
What is a Smart PDU?
A smart PDU is a power distribution unit with internet networking capabilities used to remotely read power data and turn outlets on and off. Advanced smart PDUs also include adjustable setpoints which constantly monitor power data, and send alerts to users and other networked systems when there are excessively high or low values. Smart PDUs are also known as intelligent PDUs or networked PDUs.
Marway's smart PDUs features several networking protocols to make it easy and familiar to monitor power data, control outlet on/off state, and configure the system for sending alerts.
Some protocols are designed for people to use. We call these human to machine interfaces, and include web pages and command lines. Other protocols are designed for machine to machine communication. These are used to automate monitoring and switching using another computer.
---
Optima Switched PDUs
All standard Optima 8 PDUs include switching. Outlets can be switched manually through web and command line interfaces, or through SNMP. Automated switching control can be scripted through the RESTful API (an efficient HTTP protocol), or through Telnet, SSH, or SNMP over Ethernet. Each outlet may be user labeled to reflect what it is connected to, or what its purpose is.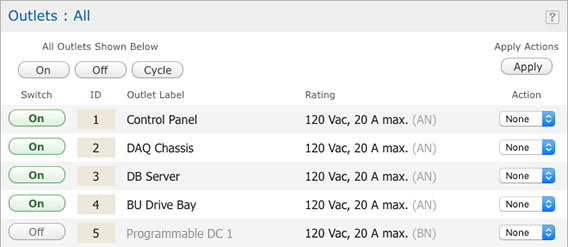 ---
Optima Switched & Metered PDUs
Inlet metering (a.k.a. inlet monitoring) measures volts, amps, watts, voltamps, voltamps-reactive, power factor, and frequency. Data is available through HTTP/S, Telnet, SSH, and SNMP over Ethernet. Amps and Volts both have setpoint alarms for each inlet phase to warn against upstream breaker current overloading and voltage anomalies. Alerts can be sent through Email, SMS, and SNMP. Inlet monitoring is optional on most Optima 8 models, though it is standard on all 833 models.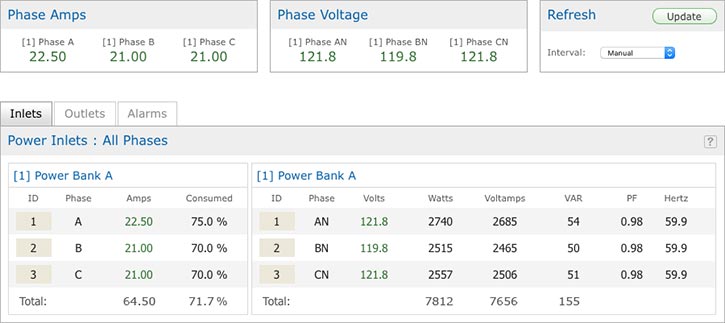 ---
820 Series

1U Single Phase
For when few outlets or small budgets are the priority, but industrial capabilities may be necessary, the 820 Series 1U single-phase PDUs consolidate the most commonly requested industrial features and options into an array of over 60 standard models.
120 Vac, 200–240 Vac, or 100–240 Vac 1Φ.
12 A, 16 A, and 24 A continuous duty ratings (15 A, 20 A, 30 A max).
5-15R, 5-20R, or high-tension C13 outlets (1 on front, 8 on back).
Main power circuit breaker, indicator, and surge suppression included in all models.
Optional EPO and EMI filter package.
HTTP/S, Telnet, SSH, SNMP, and more over Ethernet.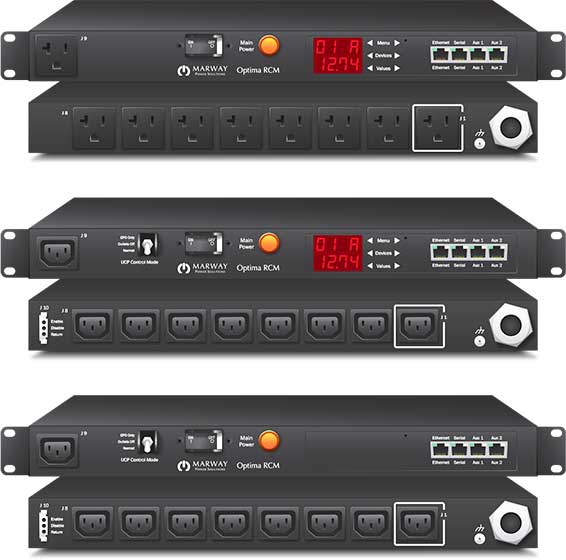 ---
833 Series

3U Three Phase
For higher power requirements, or when flexibility and industrial capability is the priority, we have the 833 Series 3U three-phase PDUs which provide the space needed for twist-lock connectors and individually breakered circuits.
All models are 120/208 Vac 3Φ wye, 24/30 A, with an L21-30 inlet.
Standard main power circuit breaker, phase power indicators, surge suppression, EMI filtering, and remote EPO control.
Options for location of the inlet on the front or rear panel and a variety of outlets (5-20, L5-20, L5-30, L6-20, L6-30, L21-30).
HTTP/S, Telnet, SSH, SNMP, and more over Ethernet.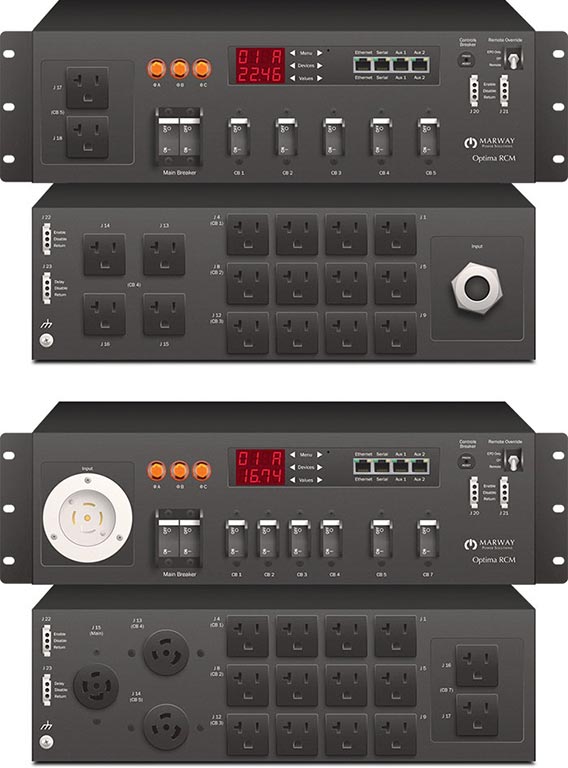 ---
829/839 Series

0U Vertical PDU
When rack space is at a premium, the 829 Series single-phase PDUs and 839 Series three-phase PDUs are vertical 0U configurations installed at the back of the rack without using any of the traditional rack-mount spaces.
Single-phase in 120 Vac, 200–240 Vac, or 100–240 Vac.
Three-phase in 120/208 Vac wye.
12 A, 16 A, and 24 A continuous duty ratings (15 A, 20 A, 30 A max).
Full-rack and short-rack models.
Outlet types including C13/C19 combinations, 5-20R, and 5-15R.
HTTP/S, Telnet, SSH, SNMP, and more over Ethernet.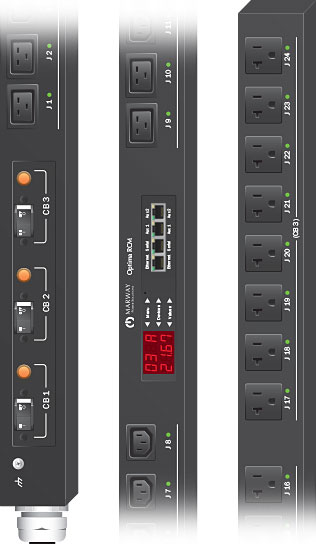 ---
---