Optima 520 1U Industrial PDUs
The Optima 520 is a series of PDUs for single-phase applications needing as much capability as possible in a 1U enclosure. A wide range of options results in close to 100 models to choose from. In addition to current capacity and outlet connector choices, the highlighted options include a power meter, remote EPO control, outlet sequencing, and an integrated EMI filter.
The power meter displays volts, amps, watts, and power factor. The remote EPO option allows a remote control panel to shut down all outlets of one or more PDUs at the same time. The outlet sequencing reduces inrush current by powering up some outlets right away, and some outlets 2 seconds later. The EMI filter option includes a broad-spectrum filter on the incoming ac line which helps attached equipment get a clean power signal.
Download the Standard Products Catalog (above) for complete details, but here's an overview of standard and optional features:
1U chassis with removable/relocatable mounting brackets.
120 Vac, 200–240 Vac, or 100–240 Vac 1Φ power sources.
12 A, 16 A, and 24 A continuous duty ratings (15 A, 20 A, 30 A max).
12 outlets (2 on front, 10 on back).
5-15R, 5-20R, or C13 outlet options.
Straight blade or locking inlet connectors.
Standard main power circuit breaker with On indicator.
Standard surge suppression.
Standard 9 foot inlet cable or C20 panel connector.
Standard 18 gauge enclosure, black powder coated.
Optional multi-function current and voltage meter.
Optional remote switching / remote EPO interface.
Optional sequencing of outlets (two groups of four outlets).
Optional EMI filter.
Certified to UL 62368-1.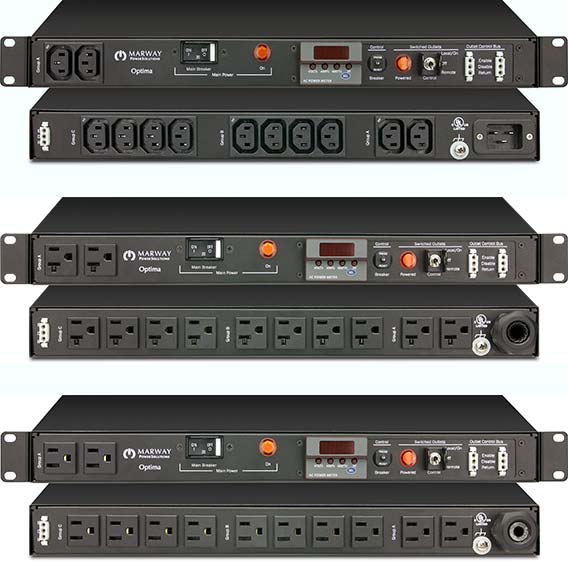 ---
Power Meter
The power meter is a useful option for several purposes, but two commonly used values are amps and watts. The built-in circuit breaker will protect wiring from an overload, but how do you know if your equipment is close to tripping the circuit breaker? The meter's display of amps provides the information you need. Watts is a measure of how much power is actually being used. This can be useful for monitoring the equipment capacity for backup battery systems or generators.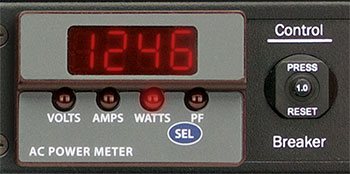 ---
Remote EPO and Switching
The remote switching/EPO option allows a remotely located panel to control eight of the Optima 520 outlets. The four Group A outlets are always on. The Group B and Group C outlets are subject to the remote switching system. Additionally, this system provides the interconnection needed for the PDU to be controlled by a Marway remote EPO panel such as the Commander UCP 5000. Download the Standard Product Catalog for complete details.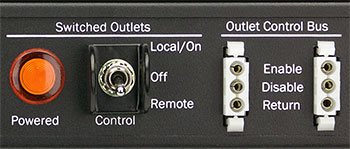 ---
Outlet Sequencing
The sequencing option adds a timer to provide a delay between powering Group B and Group C outlets. When the system is powered, all Group A outlets are immediately powered. When the remote Power On signal is actuated, Group B outlets are powered. After a delay of about two seconds, Group C outlets are powered. The delay is fixed internally, and is intended primarily to reduce inrush current and prevent breaker trips. This capability is dependent on having the remote switching/EPO option installed.

---
---