We Integrate the Power,
You Integrate the Application
While Marway is not a general-contract integrator, we do provide value-added engineering and manufacturing services to ensure the successful integration of Marway and third-party products into a rack. We call these projects PowerPlus.
For the most part, PowerPlus projects are focused on delivering the integrated power platform and rack infrastructure needed for your project; even when that requires more than Marway's own in-house products. Power distribution with integral conversion, conditioning, control, and monitoring capabilities (PDU), is often combined with auto-transfer switching (ATS), uninterruptible power supplies (UPS), EPO and control panels (UCP), and other components with customized interconnection and termination panels.
Marway generally does not specify application-specific equipment outside the realm of power, and most often the customer will install that equipment at its own facilities. Our role is to provide a holistically engineered power foundation pre-built and pre-tested into the rack ready for the customer's final assembly.
---
PowerPlus Turn-Key Solutions
Some of the capabilities in Marway's power integration services include:
mixed power form distribution (ac, dc, 60 Hz, 400 Hz, etc.)
integration of third-party hardware such as UPS and programmable power supplies
integration wiring including the design of optimized control and interconnect panels
rack enclosure selection/design including custom access panels and doors
power sub-system specification, selection, and procurement
software development for PLCs and other controllers
remote outlet switching over Ethernet through HTTP (web and REST), Telnet, SSH, and SNMP
assembly and test
documentation and certification
operation and maintenance training
Marway's PowerPlus services offer the engineering know-how to assure correct component selection to meet application needs, the quality assembly to assure signal integrity and safety, and even the management needed to oversee environmental and/or certification testing of the completed system prior to shipment.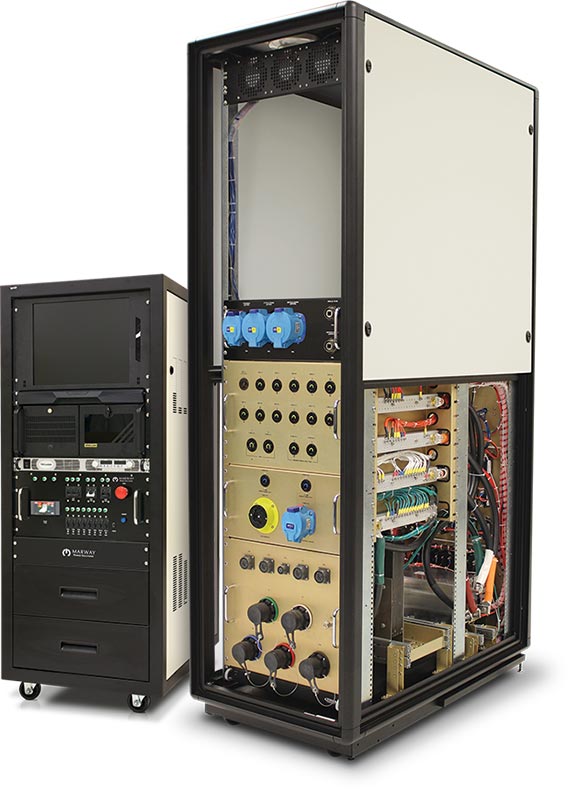 ---
PowerPlus Engineering
When the core infrastructure of power distribution is supplemented with external power related systems, it is critical that all products are properly matched and compatible. A number of power specification details can have significant impact on overall efficiency of the system. Improperly matched products can result in excessive heat, costly energy waste, and shorter life expectancy.
Marway's PowerPlus leverages our expertise with UPSs and power conversion products such as power supplies, inverters, converters, and transformers to help ensure all components are properly selected and integrated.
On the mechanical side, we use modern CAD and modeling. This helps ensure quality design, and allows us to experiment with virtual serviceability before we begin manufacturing.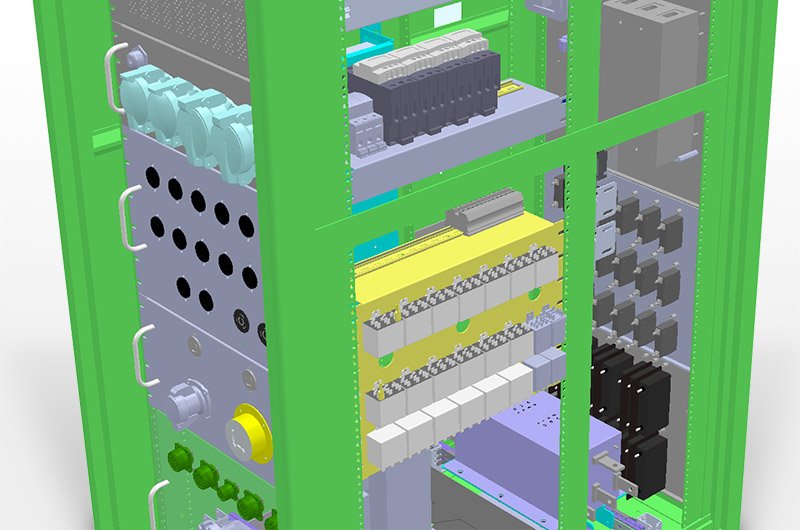 ---
PowerPlus Manufacturing
Whether your group doesn't have the time, tools, or the expertise to assemble your racks, or it would simply cost more to do it yourself, Marway can offer the added manufacturing capacity and expertise needed.
Assembling a complex set of power products into a rack requires knowledge of connectors, cables, enclosures, and numerous safety standards. There are many details learned through experience to ensure proper operation, signal integrity, ease of maintenance, and safety.
Using Marway's PowerPlus services to provide power-ready racks can help ensure a higher quality build which ultimately results in a more successful project. The customer typically installs their own application equipment after Marway delivers a pre-tested power platform and rack infrastructure. However, for projects which need a fully-integrated build, perhaps for environmental testing, or simply for the convenience, we will accept drop-shipped equipment, and perform the manufacturing integration.
We maintain a well-equipped, on-site test bay in which custom power systems can be thoroughly tested under duplicated or simulated load and field conditions.
Our 25,000 sq. ft. facility includes a raw material processing center allowing us to mill, punch, and laser-cut sheet metal on site for higher quality control and shorter turn-around time.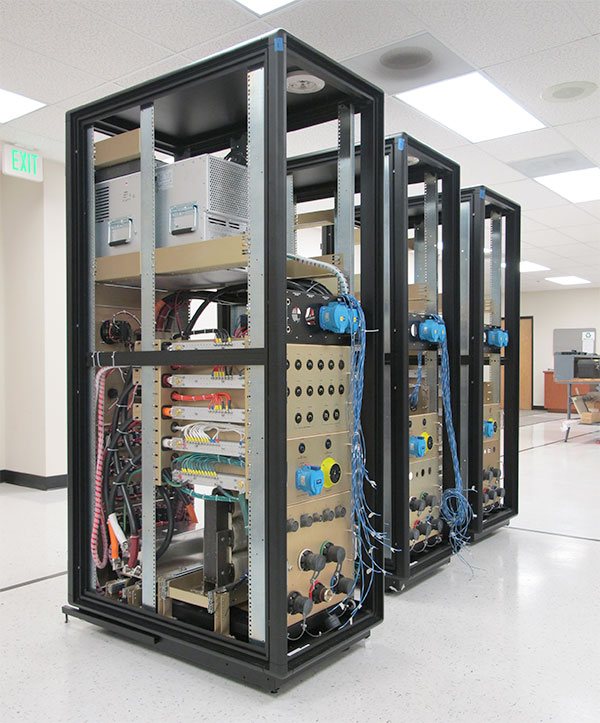 ---
Quality and Compliance
Marway has always focused on quality, and delivered products complying with many commercial and military specifications. When certification is required, we can initiate and manage that process prior to delivery.
Certified AS9100 with ISO 9001
Lockheed Star Supplier recipient
UL and CE certification (others when required)
Designed and manufactured to UL/IEC 62368-1 and 61010-1 (others when required)
Certified AS9100 with ISO 9001.
General MIL-STDs 461, 810, 901, 167, and others.
Platform-specific MIL-STDs 1399, 704, and 1275.
Certifications through NRTL testing when required
Industry-specific safety compliance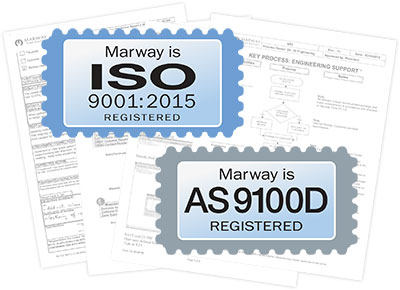 ---