Control Multiple PDUs Remotely
Marway's Universal Control Panels consolidate the on, off, and EPO control features to manage one or more power distribution units. PDUs with remotely switchable outlets can then apply power on/off control in unison to downstream equipment. Additionally, the EPO circuit improves safety of the combined power system.
The general functionality of the UCP is shown in the illustration. Power enters the PDU through a relay. That relay is remotely controlled through the UCP. There are a variety of techniques for such a system, and each UCP model offers some unique variations. A mixture of connectors and signals provide flexibility when working with Marway and non-Marway PDUs.
---
Commander 5000 and 5100
Feature Highlights
The Commander is available with NEMA 5-15 plug and outlets (UCP 5000) and with IEC C14/C13 plug and outlets (UCP 5100). Both are available with or without an EPO switch guard (which is shown).
On/Off, and EPO control for all connected PDUs.
"Control Power" lamp indicates the UCP has power.
EPO reset/silence button.
Built-in audio alert with enable/disable switch.
Local circuit breaker protects UCP circuitry.
Built-in lamp test button.
Time meter tracks power-on time.
Available with N.O. or N.C. EPO contacts.
(UL and CE certification pending)
Compatible replacement for the legacy UCP 3500.
---
UCP 5000/5100 On/Off Circuit
The power on/off circuit is the primary feature of the Commander control panels. Lighted on/off switches provide easily recognized status on the UCP, and connections on the back of the chassis allow for remote indication as well. Dry contacts, connected at the back panel, provide two channels of on/off control (each can be of a unique power spec), which can be externally branched, to provide a power on signal to as much downstream equipment as needed.

---
UCP 5000/5100 EPO Circuit
In some applications, particularly those with machinery connected to a PDU, an Emergency Power Off (EPO) may be required. An EPO is a large, prominently placed push button used to disconnect power to all devices connected to the PDU. These buttons are intended to be easy to find and press in an emergency scenario, such as when a person identifies a hazardous condition not handled by the end-point equipment itself. The UCP 5000 and 5100 provide this EPO circuit including remote capabilities to allow additional EPO buttons to trigger the same shutdown.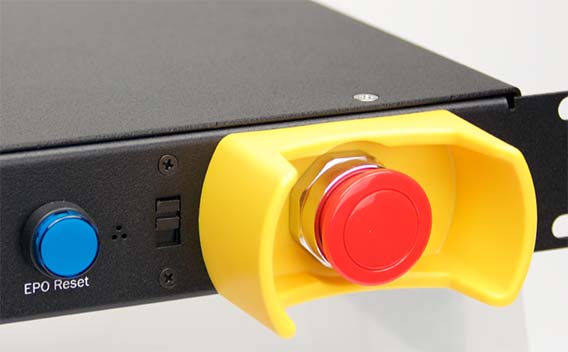 ---
UCP 4900 Basic On/Off/EPO
For applications which need only the most basic remote on, off, and EPO capabilty, the Commander UCP 100 model offers these features in a cost effective package. Essential buttons are mounted to a 1U panel. The UCP 4900 is a compatible replacement for the legacy UCP 100.

---