Optima RCM 839
Vertical 3-Phase Smart PDUs ↑
The Optima RCM 839 models of vertical three-phase PDUs provides high power capacity in a space-saving design. Models are available in 20 and 30 amps maximum rating per phase. The full-sized vertical 0U chassis includes 24 switched outlets in two configurations for 5-20P and C13/C19 mixed.
All standard models include remote outlet switching over Ethernet. Outlet control includes on/off/cycle several user-configurable attributes. Optional inlet power monitoring is also available which measures volts, amps, watts, voltamps, power factor, and frequency.
Software details are available on the RCM Software page. Download the Standard Products Catalog (above) for a complete list of model details, configurations, and specifications.
Standard remote switching over Ethernet.
Optional inlet power monitoring over Ethernet with local LED display and keypad.
Ethernet 10/100-T, RS-232 serial console.
HTTP/S, Telnet, SSH, SNMP, SMTP, SNTP, IPv4, IPv6
0U chassis in full-rack configuration (72").
End, side, and tool-less mounting options.
Standard surge suppression.
Standard UL 489 circuit breakers with power-on indicator.
Each breaker provides two 20 amp circuits. Each outlet cluster is two circuits of four to maximize power capacity.
Two power capacity options:

120/208 Vac 3 phase, 50/60 Hz, 16/20 A, L21-20P
120/208 Vac 3 phase, 50/60 Hz, 24/30 A, L21-30P

Two outlet configuration options:

(24) 5-20R outlets at 120 Vac
(18) C13, (6) C19 outlets at 208 Vac
C13 outlets feature a high-tension design to better grip standard cables without the need for proprietary locking systems or cables.

Designed and manufactured to UL 62368-1.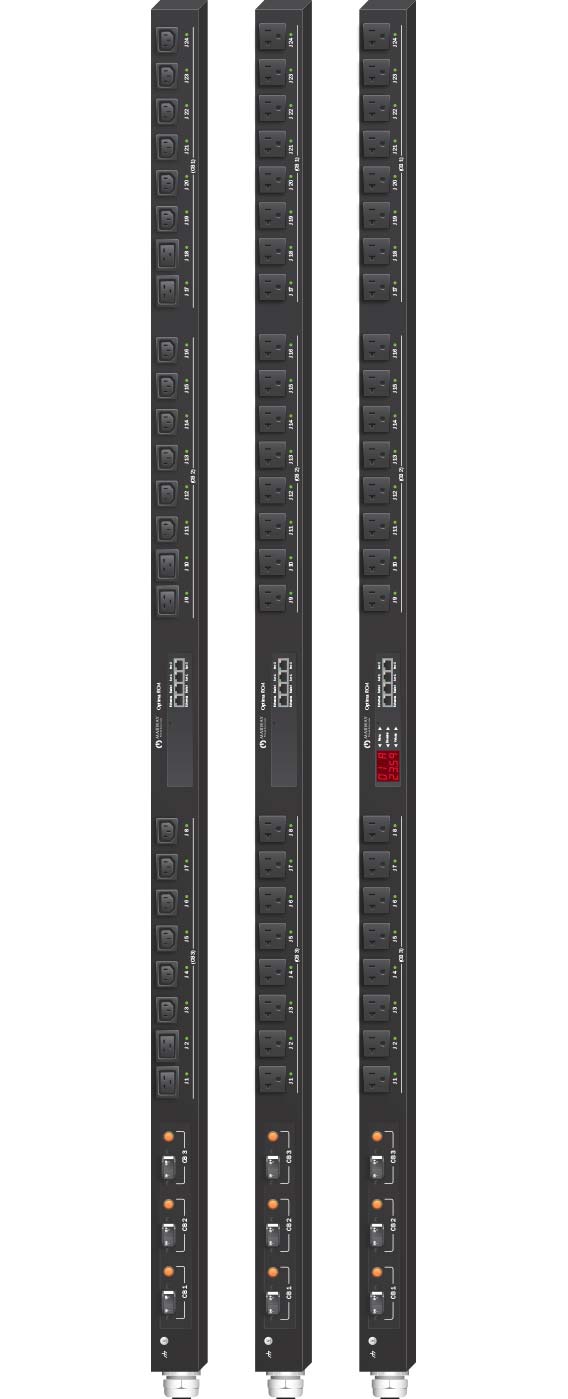 Power Monitoring ↑
Inlet power monitoring over Ethernet is a useful option for several purposes, but commonly watched values are amps, volts, and watts. The built-in circuit breaker will protect wiring from an overload, but how do you know if your equipment is close to tripping the circuit breaker? The inlet monitor's display of amps provides the information you need. Additionally, setpoints can be used to automatically alert personnel that the current load has reached a warning or critical level. Voltage can also be monitored with alerts. Watts is a measure of how much power is actually being used. This can be useful for verifying the equipment capacity needed for backup battery systems or generators.

Outlet Switching ↑
All models of the 839 Series are switched PDUs. Outlets can be switched manually over Ethernet through web and command line interfaces, or through SNMP. Automated switching control can be scripted through the RESTful API (an efficient HTTP protocol), or through Telnet or SNMP.
Each outlet may be labeled to reflect what it is connected to, or what its purpose is. Each outlet includes on/off/cycle commands, and is configurable to be on or off at startup, or restored to whatever the last known state was prior to shutdown. Switch events can be logged, and even configured to send alerts over email, SMS, and/or SNMP.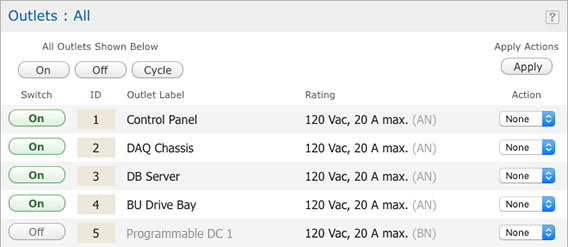 ---
---