Optima RCM 820 1U Smart PDUs
The Optima RCM 820 is a series of 1U switched PDUs and metered PDUs for single-phase applications needing as much capability as possible in a 1U enclosure. A range of options results in over 60 models to choose from. In addition to current capacity and outlet connector choices, key options include inlet power monitoring over Ethernet, and the remote EPO and integrated EMI filter package. Remote outlet switching over Ethernet is included on all standard 820 products.
Inlet power monitoring measures volts, amps, watts, voltamps, power factor, and frequency. As part of the EPO/EMI filter option package, the remote EPO option allows a remote control panel to shut down all outlets of one or more PDUs at the same time. The EMI filter includes a broad-spectrum filter on the incoming ac line which helps attached equipment get a clean power signal.
Download the Standard Products Catalog (above) for complete details, but here's an overview of standard and optional features:
Standard remote switching over Ethernet.
Optional inlet power monitoring over Ethernet with local LED display and keypad.
Ethernet 10/100-T, RS-232 serial console.
HTTP/S, Telnet, SSH, SNMP, SMTP, SNTP, IPv4, IPv6
1U chassis with removable/relocatable mounting brackets.
120 Vac, 200–240 Vac, or 100–240 Vac 1Φ power sources.
12 A, 16 A, and 24 A continuous duty ratings
(15 A, 20 A, 30 A max).
9 outlets (1 unswitched on front, 8 switched on back).
5-15R, 5-20R, or C13 outlet options.
C13 outlets feature a high-tension design to better grip standard cables without the need for proprietary locking systems or cables.
Standard 9 foot inlet cable with straight blade or locking inlet connectors, or C20 panel connector.
Standard main power circuit breaker with On indicator.
Standard surge suppression.
Standard 18 gauge enclosure, black powder coated.
Optional EPO/EMI package with remote EPO interface and broad spectrum EMI filter.
Designed and manufactured to UL 62368-1.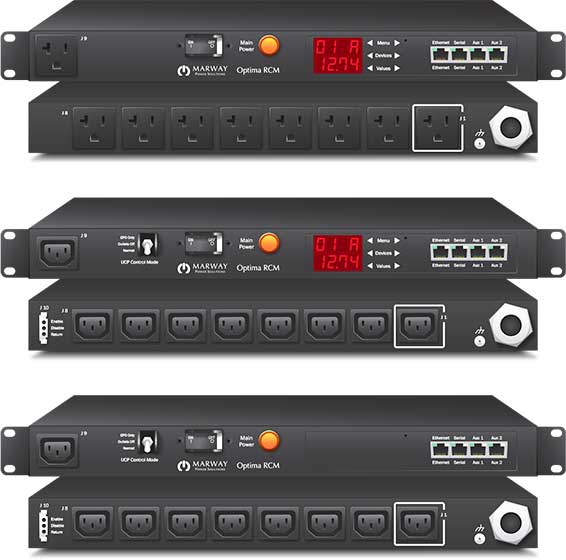 ---
Power Monitoring
Inlet power monitoring over Ethernet is a useful option for several purposes, but commonly watched values are amps, volts, watts, and voltamps. The built-in circuit breaker will protect wiring from an overload, but how do you know if your equipment is close to tripping the circuit breaker? The inlet monitor's display of amps provides the information you need. Setpoints can be used to automatically alert personnel that the current load has reached a warning or critical level. Voltage can also be monitored with alerts. Watts and voltamps are a measure of how much power is actually being used. These can be useful for verifying demands on UPSs and generators.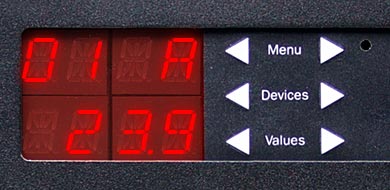 ---
Outlet Switching
All models of the 820 Series are switched PDUs. Outlets can be switched over Ethernet manually through web and command line interfaces, and through SNMP. Automated switching control can be scripted through the RESTful API (an efficient HTTP protocol), or through Telnet or SNMP.
Each outlet may be labeled to reflect what it is connected to, or what its purpose is. Each outlet includes on/off/cycle commands, and is configurable to be on or off at startup, or restored to whatever the last known state was prior to shutdown. Switch events can be logged, and even configured to send alerts over email, SMS, and/or SNMP.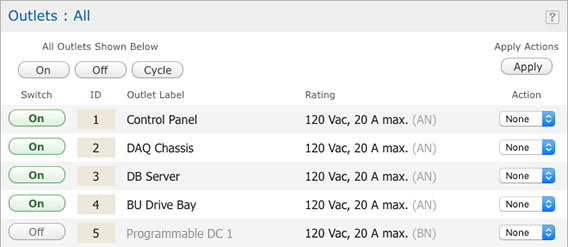 ---
Remote EPO
The Optima remote EPO feature is primarily designed for use with a Marway remote EPO panel such as the Commander UCP 5000. A Commander panel may be connected to one or more PDUs, and used to trigger an EPO event for several racks in unison.
In the 820 Series products, the remote EPO feature disables all eight outlets on the rear panel, but not the unswitched outlet on the front panel. The firmware detects the EPO event, updates the outlet states, and can optionally send an alert over email, SMS, and/or SNMP.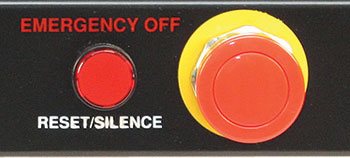 ---
---