Customizing Optima
Optima PDUs can be highly customized with a variety of designs, capabilities, and componentry. The primary purpose of these products is power distribution, though customized systems often consolidate the features of other Marway products into a single package. Different from user-selected combinations of standardized options, custom Optima PDUs benefit from a more synergistic design and customization process to meet unique application-specific needs.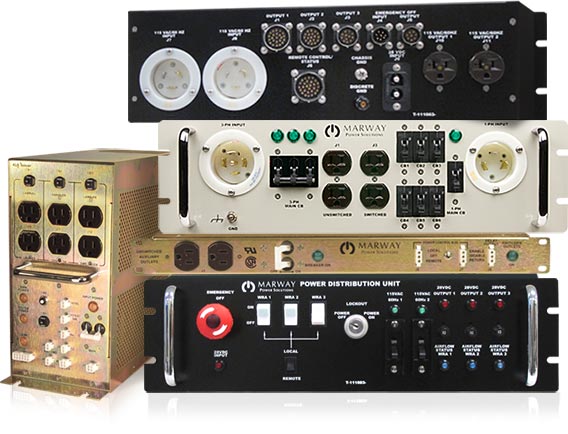 Preparing an Inquiry
The more detail you know about what is required the better. Focus on specifying what is required rather than how it is to be accomplished in order to take advantage of Marway's experience. Of course, there will be considerable discussions involved in defining and clarifying the project details during the quotation phase, but the basic list below should help you prepare for Marway's initial questions.
General information to prepare:
A description of the product required, it's application, the environment it will be used in, what it will be interfacing with, and how users will interact with it (purpose, frequency, etc.).
A list of any components and connectors which have specific requirements based on environment, duty, interfacing or other parameters.
Enclosure style preferences, size restrictions, color requirements, installation environment details including the general preferred locations for facilitization.
Power information to prepare:
Facility power type available, and connector type if already established.
Any known power types required for mandated internal components.
All known power types required for externally connected equipment, and connector types.
Preferences regarding grouping of outlets on circuits.
Preferences regarding panel and/or remote switching of internal equipment and outlets.
Preferences regarding indicators, meters, or other display communication.
Safety requirements (circuit breakers, EPO, interlocks, etc.)
Certification requirements (UL, CE, MIL, environment testing, etc.)
---