PowerPlus Systems
PowerPlus systems are highly customized projects which bring application-specific electronic equipment, power management, and enclosure needs together for integration. More than simple assembly of rack-mounted equipment, PowerPlus projects tend to require more synergistic design and customization of key components and sub-systems.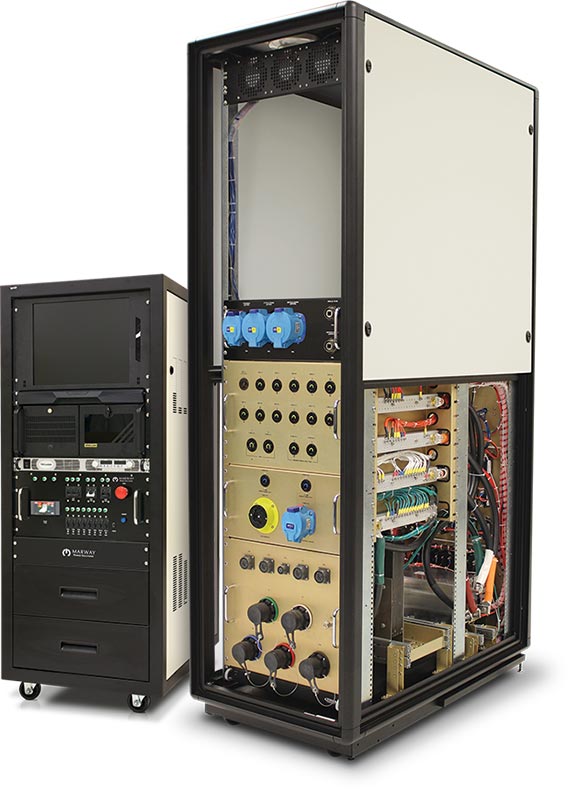 Preparing an Inquiry
The more detail you know about what is required the better. However, you should avoid over-specifying areas of integration and power management in order to take advantage of Marway's experience. Of course, there will be considerable discussions involved in defining and clarifying the project details during the quotation phase, but the basic list below should help you prepare for Marway's initial questions.
General information to prepare:
A description of the product required, it's application, the environment it will be used in, what it will be interfacing with, and how users will interact with it (purpose, frequency, etc.).
A list of equipment to be integrated, along with which ones have a specific part number already specified, and which ones are open for specification.
For the above equipment, identify whether you or Marway will be procuring that equipment once specified.
Enclosure style preferences, size restrictions, color requirements, installation environment details including the general preferred locations for facilitization.
Power information to prepare:
Facility power type available, and connector type if already established.
Any known power types required for internal equipment.
Any known power types required for externally connected equipment, and connector types.
Preferences regarding grouping of outlets on circuits.
Preferences regarding panel and/or remote switching of internal equipment and outlets.
Preferences regarding indicators, meters, or other display communication.
Safety requirements (circuit breakers, EPO, interlocks, etc.)
Certification requirements (UL, CE, MIL, environment testing, etc.)
---